Torrents are one of the main sources of downloads. But searching for them is one hell of a job because there are many fake torrents and also many torrents which contain virus. To avoid all these only way to go is to get the best torrents and here is a search engine for torrents which will help you solve this problem. It is called as USniff.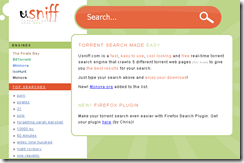 The main concept of usniff is to simplify the torrent search. First thing you notice about usniff.com is its cool interface. There is a big search box which lets you search five major web pages like Bit Torrent, Isohunt, The Pirate Bay, Mininova, Monova. More web pages will be added later.
The search results are displayed very fast unlike other torrent search engines in a cool way showing file name, seeds, peers, engine and the date it is added. You can select the required torrent and can start downloading the required data.
Another remarking feature is a Firefox plugin is available for download which integrates usniff in your browsers. but only thing which annoys is some times the search is not working and is redirectied to 404. Hope this will be rectified soon and may usniff be an answer to your torrent downloading problems.