Spotify, A free online music player for windows and MAC is very popular all over the world. Here is a service which makes your music search much easier. ShareMyPlayLists is a site entirely dedicated to the Spotify Play Lists, where you can search and access spotify playlists.
We already discussed about Free Spotify Invites – Get Spotify Account Without Invitation Code.
It lets Spotify users to share their playlists on the web, so that every one can listen to them. In this way, you can discover new music from different parts of the world.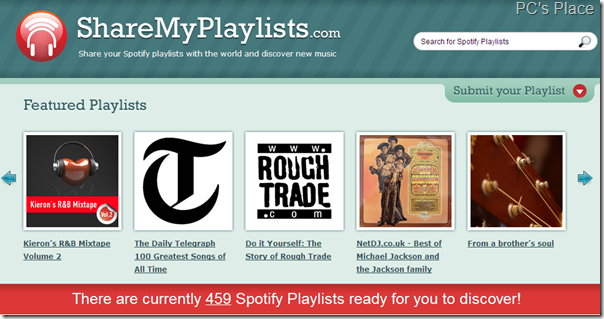 The site is designed neatly and is user friendly. It has genres listed in the left side,which makes you easier to navigate. The number of play lists are increasing day by day. By the time of writing this post, it has 459 Spotify play lists. There is also a "featured playlists" section at the top of the homepage and also the site makes it easy to search for playlists via search in playlist descriptions.
The users can submit their play lists along with their own artwork to give it a cool look. A user can submit any number of play lists. To start listening to a playlist, simply click on "play now" under the album cover of your playlist of choice and it should automatically open the playlist is Spotify reading for you to play. The playlist will also appear in your sidebar until you decide to remove it.
Share your Spotify Play Lists at ShareMyPlaylists