SreenFix is a free online service, which lets your fix / repair monitor display problems online for free. Fixing monitor problems does not always require hardware expert.
Now, you can simply switch to the website of this free web service namely, ScreenFix and get some of the minor display problems fixed. This free web service offers you with number of tests like flicker fixer, brightness checker, gamma checker, phasing checker and dead pixel fixer.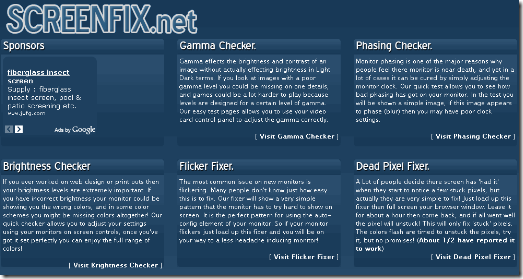 With ScreenFix you can check for the below repairs:
You can check the gamma levels

Fix the screen flickering problems

Checks the brightness levels

Checks the dead pixels

Know about the bad phasing of the monitor
You can read a brief description of all these tests and click on the link given to let your monitor undergo this any of the test.