Here is a free resource which lets you read books on the web for Free. It is called as Book Glutton. Using this you can not only read books online but also can digitally annotate books and interact with other readers in real-time. There is even an option to chat with users on different chapters, leave and reply to comments within the text and bookmark your place in the book.
At present it lists about 1473 books from public domain and independent authors. You can also upload your own books, join book groups with similar interests and follow activities of other members.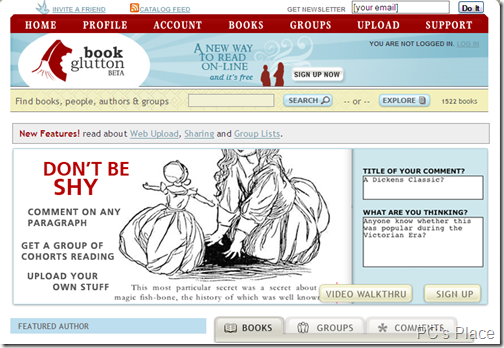 Using this you can read books online in more interactive way. The other features include uploading your own books from URL or a computer and share them with friends or with a group, Follow other readers and view their activity on the site, Add descriptive tags to books, Find readers ("gluttons") with similar interests. Exchange wall messages. Register to annotate chapters within the book, leave comments and chat with users.
This can be considered as a social network for the Book Lovers. Read you favorite books on the web at www.bookglutton.com