Posti.ca is a cool site to create and share or distribute your sticky notes, reminders and files online easily and quickly. This can be used as a digital sticky notes. These sticky notes are often used to jot down important things like meetings, schedules etc. These are used like reminders, so that you won't forget a thing. We already discussed how to create Sticky notes on your desktop
Posti.ca can be used as an online notebook. It has a lot of features required to share notes among your friends. Along with notes, you can even attach any file to it like photos, documents etc. The best part of this site is the ability to share which can be done in many ways like Twitter, iGoogle etc.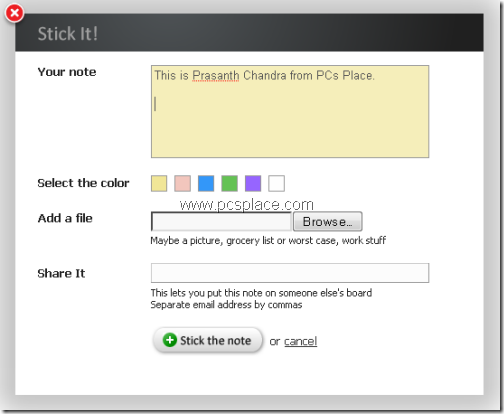 You need to register to access this website and it just takes a minute to register and login. After you login, you will se options to create and organize your notes. The create note will result in an interface like the above screenshot. Type in your notes, attach anything you like, give it a color and enter the email address to send it to whomever you like.
Also check out similar sites like Listhings