Loogix can be used to create GIF animations online. You can upload your photos to create animated avatars which you can use in your Online profiles. This free online GIF animator adds animations to your photos making them look different. The created animated photos can be saved to your computer and can be shared online on Orkut, Facebook, MySpace etc. You can even embed them any where using the generated HTML code.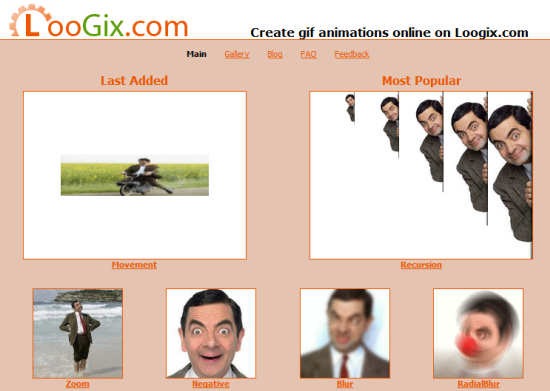 To create GIF animations to your images / Photos..
Click "Browse" to upload your photos.

Select size and speed.

Click "Generate Animation".
The Animated avatars can have effects like Recursion, Motley, Movie, Guggle, Black White, Explosion, Swirl, Radial Blur, Blur, Zoom, Negative, Painting, Brothel, Movement. Go to Loogix and create your own funny animated GIF avatars.
Also check out How To Create Your Own Animated Avatar using Web Cam