Live Mocha is a site that adds the benefit of collective intellect in the form of social networking, to spice up your language learning experience. After registering on the site and confirming your e-mail address for authenticity, enter the languages you know and the languages you want to learn. Using Live mocha you can..
Learn languages online at your own pace with fun language lessons
Connect with foreign language partners around the world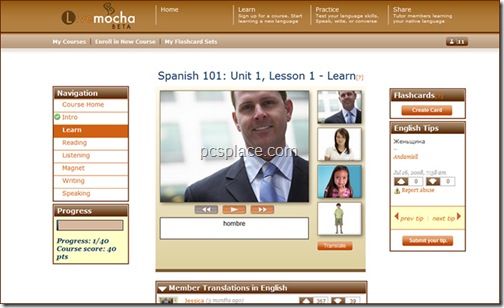 Live Mocha shows you a list of users with the opposite needs. Say for example, you know English and Hindi, and want to learn German, then Live Mocha will show you all the native German speakers who want to learn English or Hindi. You get the best of both worlds. Not only do you get authentic advice on the language of your choice, but also get to make new friends, who give you the consolation of talking to another human, rather that interacting with a server.
Live Mocha brings you an easy-to-follow inbox, through which you can monitor exactly where you stand in your learning curve. You get to see users who're learning the same language as you and users who speak the same language as you. This way, learning is easy and comfortable.
Learn new languages at http://www.livemocha.com/