If you are a music lover and you love to create your own music online, then JamStudio is just the site for you. It is the online music factory where you can mix and create professional music. This site has an online sound mixer, where you can mix sounds from various instruments such as, guitar, drums, piano, synthesizer and organ. Click on the instrument you want to use, select the chords, tempo and score and create your own song.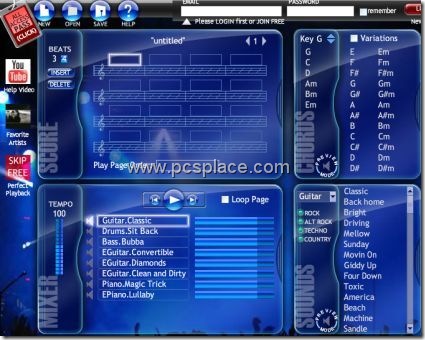 The interface is very easy to use. It also has an online demo video, which simplifies the use of the tool. After you create your song, save it on your profile or share it with your friends. The best part is that your friends don't have to be JamStudio members to listen to your creation. If you sign up for an All Access Pass you can download your creation to your PC as well.
This site also lets you create songs using the style of your favorite artists. This is very much useful to play different kind of instruments online and to try out your creativity without having to buy expensive music instruments and synthesizers. If you know how to create music, this can serve as a great platform to test your skills. Logon and experience the joy of creating your own music.