Apple iPhone applications are great way to spice up your iPhone. Here is a great site which helps you download paid or expensive iPhone applications for free. There are many iPhone apps out there which are very useful but are not free. FreeAppAlert helps you get paid apps for free and will give you alerts whenever a paid application becomes free in the Apple iPhone App store.
Also check out 9 Best Free iPod Touch and iPhone Games you should Download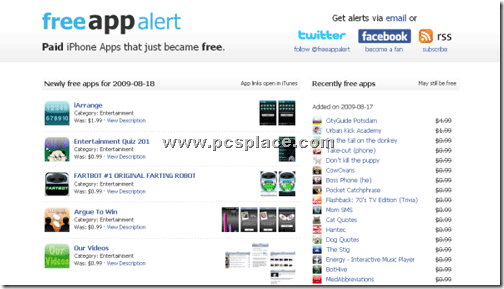 Apple's Application store has more than 65,000 apps which are useful in different ways. These feature rich iPhone apps are available for free and also for a price. If you are not willing to pay the price, you can wait till the app becomes free to use. This is where FreeAppAlert comes to rescue. You will be alerted whenever a paid app becomes free so that you can download those expensive paid premium iPhone applications for free. 
The site looks cool with easy navigation with new iPhone apps displayed as a list along with recently free apps which used to be paid applications. Hovering on the screenshots will show you bigger picture if the applications. It also acts like a directory of iPhone apps.
You can follow them on twitter or Facebook to keep up with the latest news about iPhone applications. FreeAppAlert is a must visit site for iPhone as it lets you download paid apps for free.