Here is a site called StumbleAudio which is a social music discovery site. It will help you find music by new and exciting artists that you would like, rather than play or sell you the hits by known artists that are already liked by you. This is similar to StumbleUpon as StumbleAudio allows you to discover new and interesting audio tracks.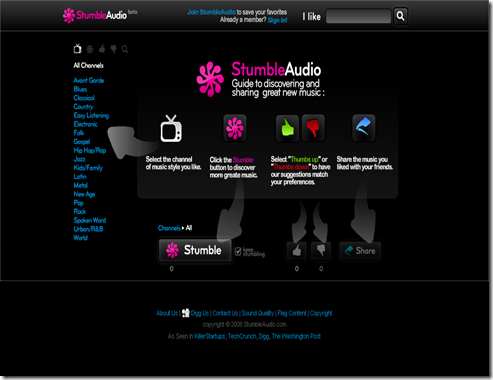 The whole interface looks so cool and it is very user friendly. The home page takes some time to load and after that you can see the different options you can do in the site like How to share music, Selecting the channel etc. The stumble button will bring out the catalogue of artists where you can listen to the different tracks in their album. If you like the song you can simple buy it by clicking on the links on the right side of the page where you can buy the original cd's or digital form.
The whole site is based on similar concept of Pandora or Last.fm, It started to build its recommendation engine by importing massive anonymous data of saved favorites, music preferences and buying patterns from several online download and actual music CD stores. As you use StumbleAudio the system learns from your ratings of "thumbs up" and "thumbs down" and constantly adjusts the music offered to your liking rate.
In total StumbleAudio has over 2,000,000 tracks by over 120,000 artists ready to be played in full length, high quality, free of charge. So this may be by far the best place to find all your favorite artists and your favorite tracks. Do share your feedback here..