CeeVee is a best way to easily create and share your resume online. This web service lets you build an  maintaining a Curriculum Vitae ( CV ) or Resumes online easily. Resume plays an important part in your job trails as it gives the first impression to the recruiter. You can find a lot of resume making guidelines, but with CeeVee you can make your resume online in very simple steps.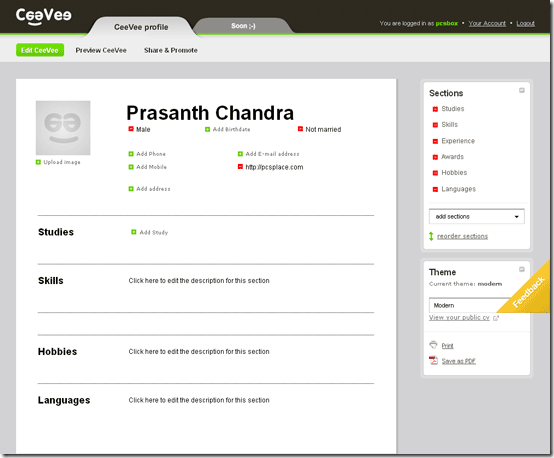 You have to sign up to use this online resume creator which takes just a minute and after you login, you can edit your information by typing and through drop down menus and can complete your resume. You can add in a lot of items in your resume like photo, experience, skills, education, hobbies, languages etc and can even remove or rearrange the order of sections.
After you are done, You can preview your resume and can mark it as public or private. This resume will have a specific URL which can be used to share your resume every where like twitter, Facebook and other social networking sites easily as you will be given a specific links. You can even change the theme of your CV. CeeVee also offers an option to save your created resume as PDF and you can print this too.