File2.ws can be used to convert any kind of file into a public online webpage. This website will let you upload files of any format and converts them into a website which can be accessed by a unique web address. This URL can be shared with friends, and in this way can easily share your information with others. The web pages created are simple and easy to access.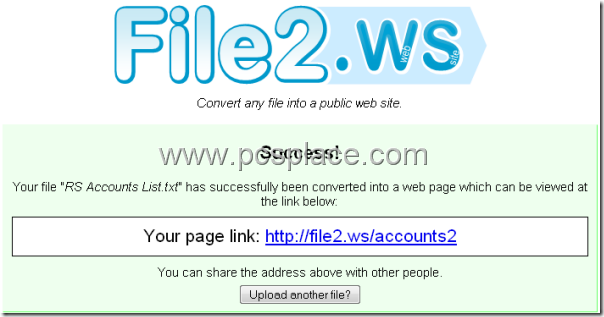 The file formats it supports are of wide variety including, audio,video, images, documents, etc. Her eis the list of supporting formats. You can convert any of these given formats into web pages..
image/photo files (jpeg, gif, png, svg…)

audio formats (mp3, ogg…)

documents (doc, pdf, odt, txt, rtf, ppt…)

programming source code (java, php, cpp…)

web documents (html, htm, swf…)

archive (zip, rar, tar…)

video, fonts, chemical file formats and more
The features of the website are fastest download speeds with no download limits and multiple downloads, no CAPTCHA codes, unlimited bandwidth, free and easy to use.
The file will not be stored online forever unless it gets a lot of hits, and there is a limit of 15MB for uploads. This can be used in order to share files quickly for temporary purposes.
Check out www.file2.ws