Whenever you want to download anything from a torrent, you may not be sure about what you are going to find in it. It can be a fake, a virus,password protected or the quality may suck. So for all you people who would like a little reassurance about what you're about to download, take a look at Vertor.
VerTor stands for Verified Torrents, a very handy site where you can find verified torrents. The service launched recently and provides automated checking of torrents from a number of trackers, like Pirate Bay, Demonoid, and several others.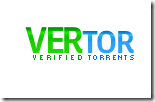 The quality or the reliability of the torrents can be found out in different ways based on the one you want to download.
For Music torrents, a 20 second MP3 clips are provided to let you preview album downloads.
For Movies and TV shows, Screenshots ( Screen Captures ) taken at regular intervals (usually every 10 or 15 minutes) during playback will help in assessing the quality.
The contents of text files (like NFOs) packed with applications and games are also posted.
The site is providing different categories for each kind of torrent and also there is an option of checking the torrents,marking them based on its quality and also to upload your own torrents. Using Vertor's advanced options menu you can enter the hash code and see the results of their checks, provided Vertor has grabbed the torrent.
Along with this. all downloads are also scanned with antivirus software, though they're currently dissatisfied with its performance. They seem to be working a lot to improve their site and this site will be helpful to get a better and assured quality downloads from torrents.