Avatara is a free web service which lets you create your own customized 3D avatar and upload it to your social networking account like MySpace, Facebook,Twitter, Orkut, Fiendster and Blogger.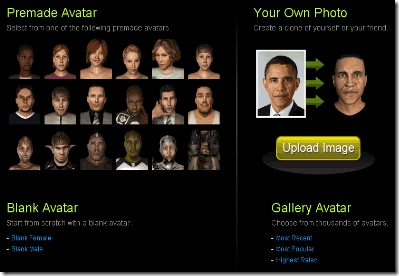 You need create a free account with Avatara to start with and then you can straight away start creating your own customized 3D avatar. You can even choose any of the Premade Avatars, Start from scratch with a blank avatar, choose from thousands of avatars and upload your photo to convert it into a 3D avatar.
You can create you 3D avatar the way you want and then dress it the way you like. Once you are done with it, you can save it in your free account. And then, you can transport it to which ever social network that you want and it Avatara also allows you to add a message to your customized avatar.
Make, Customize and Share your 3D avatar.