What are you going to do if you don't have your computer or laptop with you and still want to work on it. Well, it is possible now with OODESK. It is a cool web2.0 site which will reproduce the appearance and functionality of your own computer with all interactive functions and community tools of Web 2.0. You can access your workspace anytime, configure, customize and share it from any computer, PDA, phone connected to the network.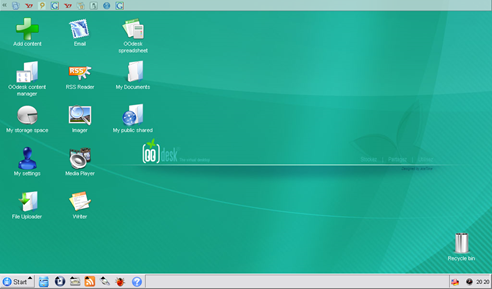 The site needs you to login first if you have an id or just signup easily and it also requires no confirmations. After you log into it you will see a screen like the above picture. The options available in this OODESK will surely make you crazy as you can do everything with this. I am listing out some features:
A RSS reader which will organize the feeds into categories like Sports, Entertainment, Technology, Finance, News etc so that you can easily access your feeds.
An uploader using which you can upload videos, documents, photos etc which you can store in your storage space.
A writer using which you can create .txt, .doc, .html etc documents. This can be used as a notepad in windows.
A spreadsheet application that lets you create excel spreadsheets.
A media player which lets you play different types of media files like audio and video files.
A public shared folder that lets you share your files with others.
Many web applications like Meebo IM, Google reader, Yahoo and Google Maps, Flash earth, Gtalk etc are also there to use.
A recycle bin which will store your deleted files.
Like this the list goes on and on. The total interface is like windows which involves taskbar, start menu too. There is also a help option which will teach you how to use OODESK. whenever you select an option it opens like a window and you can even switch between windows.
This concept of virtual desktop will be very useful as you can access your files anywhere and anytime if you have an Internet connection. Sounds cool rite? So, go get your Virtual Desktop now from here and enjoy.