EffMyPic is a website using which you can add different types of crazy and funny effects to your pictures online. This is a fun site to play with your pictures. There are many ways to change or edit images online and add different effects. EffMyPic makes it easy to add new designs or effects to your images and make them look different and interesting.
The effects available include a lot of funny stuff which will include your picture on a Graffiti Wall, Billboard, Vintage TV, News, Wanted, On a city bus, In a museum, and other effects like falling pictures, burning picture, ripping pictures, Picture on a flag, etc. There are many effects you can choose from. .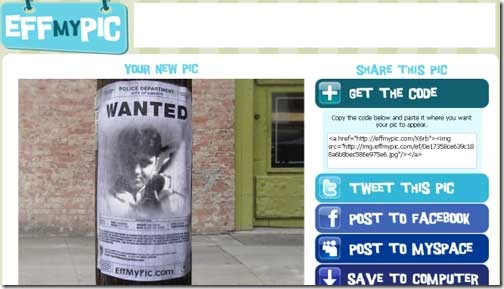 All you go to do is choose the effect you want to apply to any picture you have and modify from the various designs available. Upload the picture you want the effects on and it will display your uploaded picture adding the effect you selected.
You can share these pictures on Twitter, Facebook, MySpace or can even download it to your computer. You can even embed this on your website or blog.  EffMyPic is a easy way to make those funny pictures of you or your friends. Add your favorite effects to your pictures and make them look cool.