A web page having a high rank does not mean that many people are visiting that web page. Google and other top search engines measure the number of quality backlinks to a website and assign a page rank to it.  As the rank improves, it is better placed in search results. Backlinking helps to improve the page rank. So, if you intend to have a good page rank for your website, you need to start building quality backlinks.  Some of the simple ways to build backlinks is through participation in forum discussions and by submitting links to web 2.0 sites.
How to build links with Tumblr:
Tumblr.com the micro blogging platform helps you to build links much faster. In Tumblr you can post text, share photos, music, videos and links using your desktop or your phone.
Create an account in Tumblr. It's simple and easy. Whatever you share, it is in a form of your blog at Tumblr. You can decorate and design your blog with the available themes in Tumblr or customize the appearance according to your liking. Then go to Settings and add your domain name followed by .com or .net without http or "/" at the beginning.
Now do a Google search with this command, site:tumblr.com "liked this". You will find a list of high page rank Tumblr web pages. View each of them and click the "Reblog" button once which means you like those pages. Refresh the page to make sure that your keywords show up as the last name and click on your name to see the link to your actual webpage. You will be able to place content on your Tumblelog and a backlink in a maximum of 4 seconds.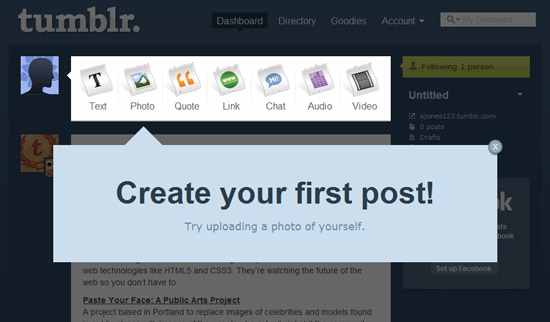 Many people use the Tumblr linking strategy to get a higher pagerank like PR6 or PR7 and also get Dofollow backlinks to their Tumblr blog. The Tumblr blog post is so flexible that it allows you to publish both a larger post and a small post. Tumblr does not strictly inspect your links or keywords as part of the backlinking rule. You can Tumblr whatever you want as it is self publishing platform.
Moreover, Tumblr is a seo-friendly website and ranked as the PR8 website.
Tumblr blogs usually have a high rank on Google. Backlinking is key to a higher page rank. You will able to move upto a pagerank of 3 or more as you work on getting more backlinks from the internet.
Here's one more Tumblr tip that will help you build links much faster. You can make use of the TumblRSSAPP to add several RSS feeds for free. When you are adding a new feed, you can choose the post type as "Link" and "Text" suitably.
Tumblr is the ideal to share
People who kept their own blog on Tumblr and used tags related to the topic saw their blog up in Google. Though there are some superior websites, Tumblr is a great website that allows you to share and find content among the Tumblr community network.
Guest Post by Katherin, as a blogger she has shared her thoughts on the social media trends, making money online avenues, daily deal market and more. You will find her articles on the facebook script.