Permalinks in your WordPress blog/site is an important step in making your blog/site more search engine friendly. In this post I will show you how to enable your permalinks more search engine friendly by altering the regular permalink structure. If you were not aware, by default WordPress generates URLs that looks something like this..
 http://pcsplace.com/?p=112
Search engines have difficulty in following them. And so do users, when they copy and paste your links on their blogs or sites.
On the other hand, if you enable permalinks, your URLs will look like
http://pcsplace.com/category/blog-tips/
Search engines will see the keywords in the URL and this will help your pages to perform better in the SERPs.
Here is how you proceed to enable permalinks in your WordPress installation:
Login to your WordPress Dashboard. Usually, the access URL is yourdomain.com/wp-admin/ or yourdomain.com/wp-login.php
Click on the "Options" tab and then click on "Permalinks". If you have trouble locating it, see the screenshot below:
You will see various options to customize your blog's permalink structure. Change from "Default" to "Custom, specify below" and in the box below enter "/%postname%/.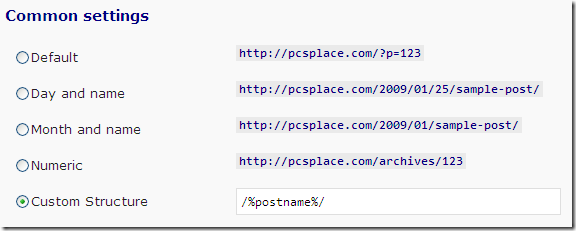 Then click on the "Update Permalink Structure" button on the right. If everything is OK, you will see "Permalink structure updated."
Depending on your hosting configuration, you may also see the message "You should update your .htaccess now."
If you see this message, it means that the .htaccess file in the root of your WordPress installation is not writable. You can make it writable by changing its permissions to 666 i.e. chmod 666.
To do that connect to your site using an FTP client. Once connected, can you see the .htaccess file? If no, it means your host has hidden the file.
Once you see the file, right click and go to "File attributes". Change its permissions to 666 i.e. make it writable.
Click OK and then click on "Update Permalink Structure" again. This time you should see "Permalink structure updated."
If you have difficulties in updating your permalinks, please post about it using the comment box.