Before smartphones, most folks including myself used scraps of paper and Post Its for to dos, shopping lists and other reminders. Now with the proliferation of iPhones, Androids, Palm, Blackberries and other smart devices these notes can be keep digitally on hand.
There are numerous programs to accomplish this task designated as Getting Things Done (GTD) apps. Some programs involve hierarchical systems using tags, folders and other ways to highlight information such as Evernote, Things for Mac, and Remember the Milk.
If you prefer a less complicated system, then Simplenote is the way to go. The interface is a simple text editor thus the moniker – Simplenote.
It is a free program but does have ads in its iOS apps. The makers offer a Premium version which costs $12 for the year. Yes I said year! The ads are pretty non-intrusive so I have been using the free version but the premium offers a few additional benefits such as creating notes via email, RSS feeds and premium support.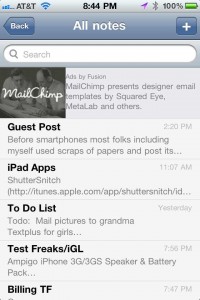 I have been using it for several months and it is one of my most used iOS apps on both my iPad and iPhone 4.
Simplenote allows the user to easily input notes, lists and ideas via the simple blank interface. This information is synced across devices through the much talked about "cloud".
This means a to do list created on one's iPhone can be read and amended on their PC. A shopping list created on your Mac can be checked and altered on your Android device. Any information input on a Simplenote device is synced with all Simplenote programs using the same user account.
Currently Simplenote works with devices running iOS, Android, Palm WebOS as well as Windows and Mac. Simplenote can be run in a web browser making it Linux friendly as well. Since it is an open platform more applications are being created on a consistent basis.
Getting started involves setting up an account on the Simplenote website. Once this is completed just download the versions required for your devices and computers.
If you are an Apple device owner you can download the universal iOS version from iTunes.
To use Simplenote on Android devices, Windows machines and Macs, visiting the Downloads page will provide a choice of options for each system.
For the Mac my personal choice is JustNotes which has a post it style appearance.
On Windows 7 Resoph Notes is another simple text editing interface.
Some of the other selections integrate with other cloud based systems such as Evernote and Dropbox; these include Notational Velocity and Nottingham.
Besides the system specific programs there are also plug ins for Firefox, Chrome and Yojimbo.
In addition to syncing notes, Simplenote creates "Time Machine" like back ups of your files, thus accidental changes or deletions can be easily restored. If you wish to tag your notes, Simplenote offers that capability as well.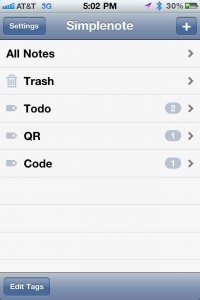 Personally I use SimpleNotes to manage my daily to dos, keep track of my review items, note items I look to check out in the future such as iOS apps and books, etc. For instance my To Dos are kept in a list and when I complete a task I simply delete it off my iPhone if I am away from my Mac.
If you need to keep list or reminders and carry around a smartphone in your daily life then integrating Simplenote into your lifestyle is easy and helps you stay productive.
Guest Post by Tom, a staff writer and reviewer at Testfreaks.com where readers can find all types of gadget reviews.