More you customize an OS, better you will find it. This is a fact which stands strong with all the operating systems. And if you have upgraded to Mountain Lion, then there is no reason that you would like all its features and would continue using them.
If you feel like doing some tweaking and want to customize Mountain Lion, then you have to try this free Mountain Lion app by Fredrik Wiker namely, Mountain Tweaks.
This app has been appreciated by number of users and have rated it pretty high. So may be for sake of high ratings, you have to give it a try. Its a nifty app, though extremely powerful as it would let you tweak Mountain Lion OS X.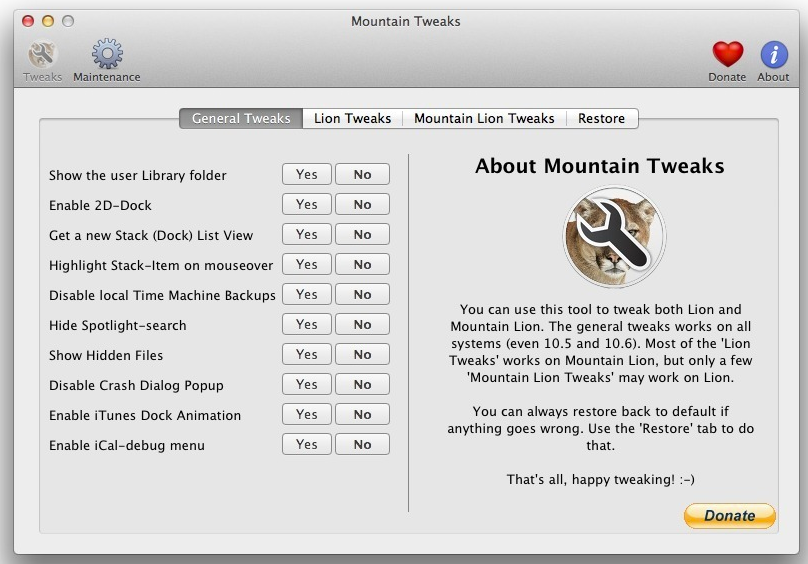 Below are some of the OS X Mountain Lion tweaks, this app would offer:
Show/Hide the user Library folder.
Change to a 2D or 3D dock.
Enable/Disable system window animation.
Enable/Disable mail reply animation.
Remove/Add Reading List Icon in Safari.
Enable/Disable Spelling Correction.
Enable/Disable repeating keys.
Enable/Disable permanent scrollbars.
Show Hidden Files
Disable Crash Dialog Pop-Up
Get a new Stack List View
Highlight Stack items on mouseover
Change iCal leather interface to aluminium
Change Address Book leather interface to aluminium
Disable resume for a single app
Enable the hidden FTP-server
Customize Launchpad folder background
Disable local Time Machine Backups
Enable Airdrop on old hardware
Enable colours in the Finder sidebar
Enable iTunes Dock Animation
Enable TRIM support in Lion
Enable secret iCal debug-menu
Remove Spotlight icon
Disable gatekeeper
Highlight non-retina images
Remove leather from Contacts (ML)
Remove leather from Calendar (ML)
Select text in Quiclook
Change the Notification Center background
Disable the new automatic app termination
Disable smooth scrolling
Disable rubber band when scrolling
The best part about this application is that the above list will keep on growing with time. This tweaking tool was basically launched to help people to remove annoying things from Lion and Mountain Lion. And with time, it has grown into a powerful tool to tweak Mountain Lion. By far, it has been the best tool to customize Mountain Lion that I have ever used.
Happy Tweaking!!!