Snow Transformation Pack, also known as STP is the free Mac OS X transformation pack for Windows 7. This transformation pack will transform your Windows 7 user interface as the one offered by Mac OS X Snow Leopard.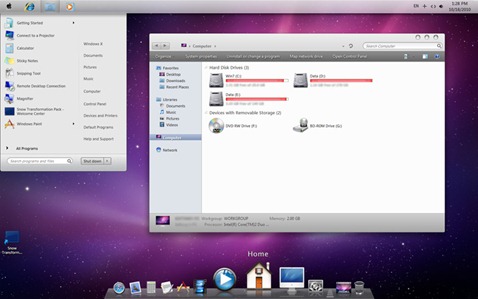 This version of STP is way better than its previous version and other Mac OS X transformations packs. The new version of STP is compatible with x64 system files too. And this transformation pack goes well with non-English editions.
Latest version of Snow Transformation Pack offers features like improved Dock application and Desktop Theme Enhancements which lets you handle things more easily.
The feature which makes Snow Transformation Pack, the free Mac OS X transformations pack for Window7 is the fact that it is completely reversible. You can delete the whole transformation pack and restore your previous settings any time you want just by uninstalling the whole program.