Apple has unveiled its new OS namely, Mavericks. This is the first time that Apple has named is OSX other than a cat name. I am not sure if this marks a new beginning, or it just a new name.
I would be soon pitching in a new post on Apple Mavericks OSX, but I would like to start with the list of Mac machines supporting this new OS. And its pretty obvious that you would wish to learn more about this OS only if your machine supports it.
This is not an official confirmation, but Apple Insider has spoken to the developers working on Mavericks Developer Preview and they have said that this new OSX work on all the machines which are capable of running Mountain Lion, and its pre-requisites are also pretty same.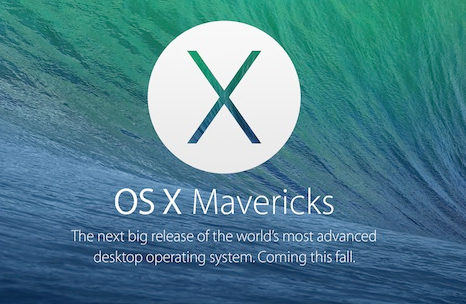 Below are the Mac Machines which would be supporting Mac OSX 10.9 Mavericks:
iMac (Mid-2007 or later)
MacBook (13-inch Aluminum, Late 2008), (13-inch, Early 2009 or later)
MacBook Pro (13-inch, Mid-2009 or later), (15-inch, Mid/Late 2007 or later), (17-inch, Late 2007 or later)
MacBook Air (Late 2008 or later)
Mac Mini (Early 2009 or later)
Mac Pro (Early 2008 or later)
Xserve (Early 2009)
Below are the pre-requisites for running on Mac OSX 10.9 Mavericks:
Must be a 64 bit Intel based Mac
Should be running on OS X 10.6.7 Snow Leopard or higher
Should have atleast of 8 GB of free space
We have just been introduced to Apple OSX Mavericks and in few days, we would come back with more in depth details on this nes Mac OS's features.