This program, iTweaX for all those people who think that working on Mac is a difficult task. This program offers you with an easiest way to tweak Mac, maintain Mac and clean files on Mac.
With this nifty Mac app installed on your machine, your maintenance chores and tweaking because so very easy. Just by clicking on few buttons, you can do things which actually take some efforts if you choose to do them the conventional way.
So what exactly, iTweaX is all about? How to use it? Will it hamper your Mac's performance? Well, if these sort of questions are bugging you, then this post would clear things about this app.
Once you launch this free Mac app, you will find four tabs on it, which are, Maintenance, Tweaks, Cleaning, Restore. And this pretty much tells you what exactly this application is capable of. And before it actually lets you work with it, it would backup your Mac (if you want), in order to restore it back, in case you mess anything.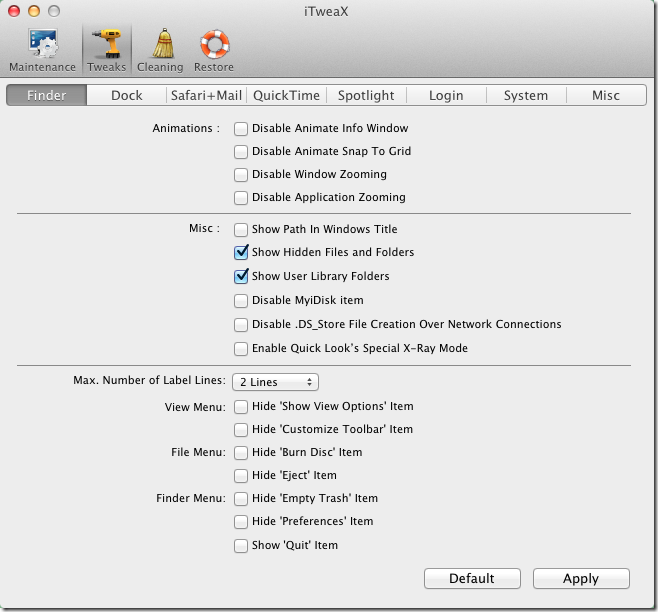 So, lets talk about Maintenance tab first. Here, you can tell it to run scripts and schedule the way you want, daily, weekly or monthly. And if you click on Rebuild tab, you would find that iTweaX lets you rebuild some of the utilities like Spotlight, Mail Envelope index and much more.
Lets talk about Tweaks tab now. Here you can tweak Mac just at the click of the few buttons. There you will find number of sub-tabs like Finder, Dock, Safari Mail, Quick Time, Spotlight, Login, System, Misc. If you want to tweak Safari Mail, click on that particular tab and make changes in your preferences to make it work the way you want.
I can bet you that with iTweaX, you can tweak your Mac in one of easiest and simplest ways. With just some clicks, you can do things which would actually happen by firing some commands on the terminal.
I have tried this app, and was shocked to find the number of things it allowed me to do. And the best part is that with backups being handy, I can try doing whatever I want because I would always have the privilege to restore back the things.
And how about cleaning junk just by few clicks? Yes, this is a way better option than navigating across different locations and manually deleting the files.
This app lets you delete cache, browsing history, cookies, bookmarks, mails and other junk from your Mac. Maintaining Mac because so much easy, if you start using iTweaX.
Keeping a computer or laptop in a GOOD condition is a fundamental and necessary activity that one need to do regardless the OS he is working on. Yes, you have to do it even if you own a Mac.
So, how about having a app which makes your life easier as it lets you tweak, maintain and clean junk on Mac. This is definitely a must have app for a Mac. Go ahead and give it a try !