There was time in during my college days when I loved to mix tracks on my computer. No, I had no intentions of going into DJ-ing as my career option, but I loved doing it. So, I can say that I understand the difference between a normal, a good and a very good DJ software.
And itDJ, free DJ Software for Mac is ranked up there when it comes to the sort of features it has to offer. itDJ is not less than any Pro DJing software which lets you work with iTunes and mix sound tracks, mix beats the way you want and come up with the mix the way you have formulated in your head.
This free DJ app for Mac is a complete freeware. It syncs seamlessly with your iTunes, allowing you to drag and drop sound tracks on the platter of your free DJ tool Mac, and start mixing beats.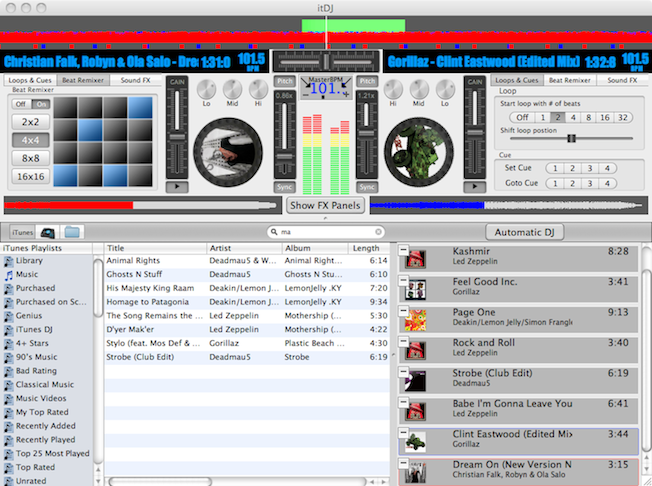 Coming to its user interface, well, the designers have tried to design an app which goes with the Mac. And this is one of the reasons which makes it a completely user friendly program. And the logic is simple, for mixing tracks, you need not be a geek. Just some basic knowledge about working on a Mac would do.
Below are some of the features of itDJ, free DJ app for Mac:
Easy looping and cueing, allowing you to switch from one end of the song to another just by a single click
Lets you set the pace of your track
Its dual channel beat remixer lets you create the sounds that would enthrall the listener
Its Synthesizer allows you to play different musical instruments allowing you to add the extra bit to your mixes
Use its sound clips, if you think they can make your mixing more interesting
Its Beat Detection feature lets you switch songs without missing a beat
Its auto-DJ feature is smart enough to mix tracks on its own
Much more
All you need is a Mac running on atleast 2 cores with a 2GB RAM and iTunes 9 or higher. If you are good with all the mentioned stuff, it implies you are good to mix tracks on your Mac. itDJ is a powerful DJ app for Mac which is totally free and lets you do almost all the DJ-ing stuff, that any paid DJ program would let you do. This free Mac app is worth trying!