I discovered that I can use my Mac as a wireless router, but by that time I already bought a router. Yes, I was disappointed because I do not prefer buying things, if the same purpose can be served for free. So, here I am sharing this Mac tutorial.
Below steps can you followed to use a Mac as a wireless router. All that is needed to be done is plug in the LAN cable / Ethernet cable into your Mac, and do some tweaking after which your Mac will be turned into a router. Cool, right? Lets learn how to do it then.
Steps To Use Mac As A Wireless Router
First thing you need to do is plugin in Ethernet cable into your Mac and see if the Internet connection is working fine
But this cable should be coming from modem (Mac can only act as router, not as a modem)
Now launch the System Preferences option
Click on the Sharing option under Internet & Wireless section
Click on the Lock, and enter the credentials of your Mac to ensure that all your further steps are preserved
Now click on the Internet Sharing from the options on the left panel (but do not put check across it now, we will do it later)
At the option labelled as Share your connection from, you will find a drop down. Just click on it and choose Ethernet option
Now just below that, put a check across the WiFi option in the To computers using section
Click on the WiFi Options just below it and enter the details as below (In the channel option, leave whatever is given to you by default)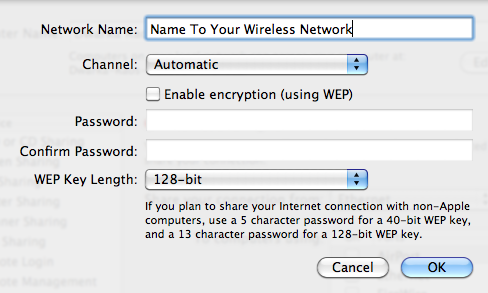 Click on OK button and then put a check across Internet Sharing option and then click on Start button
That is it! A green light across Internet Sharing : ON option will indicate that the a wireless network has been created and you are good to connect to it. This is how you can use Mac as a wireless router.