Well, they say Mac can do things which no other personal computer or laptop could do. And this is the most justification people would give for opting a Mac over any other laptop or PC.
But I am pretty sure that most of the Mac users do not tap the complete potential of a Mac and I am also a part of such group. In this post, I would telling you about the way to use Mac as a fax machine.
Yes, you read that right! One more Mac tutorial Once you are done reading this post, you would be using Mac as a fax machine.Here is the step by step procedure.
How To Use Mac As A Fax Machine
In order to do that, you need to have dial-up fax modem (either built in or an additional equipment which can be connected to Mac) and the moment to connect the telephone cord to the Mac's modem input, you are all set use it as a fax machine without a physical fax machine.
Steps To Send A Fax On Mac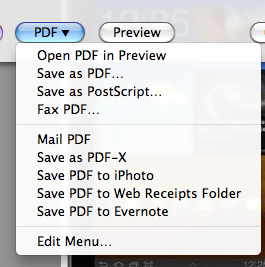 Open the document that you want to fax
Do a Command + P or navigate as File > Print
Now click on the PDF button and then on the option labelled as Fax PDF fro the pop up
You will now find a field where it would ask you enter a number to which you want to fax the document. So, enter the number with 1 and the area code
Choose the Modem Type as Internet Modem in the modem box
Now you can customize your fax with the features like cover page and scheduled fax
Click on the Preview button to have a look at the fax before sending it out
Now click on Fax button to get it dispatched
Steps To Receive A Fax On Mac
A fax machine can send as well as receive faxes. So if I am labeling a Mac machine a fax machine, then it implies that it can not only send fax, it can also receive it. Below are the step: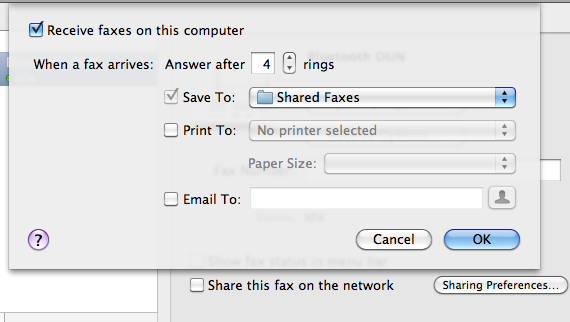 Navigate as System Preferences > Print & Fax > click on + button if no fax machine has been added. Or else you can proceed
Type the Fax number that you want to use your Fax number
Click on Receive Options, put a check across the option labeled as Receive faxes on this computer
Enter the number of rings you want it to ring before receiving the fax
Customize the way you want to receive the the fax and click on OK button
That is it! This is you can use a Mac as fax machine. Without much of efforts, this is how you can save few hundreds of dollars.
Happy Faxing!!