If you thought Safe Mode is something that only Windows OS has to offer, then you are mistaken. Let us help you to start up Mac OS X in Safe Mode.
Similar to Windows, you need to play with the keyboard in order to run Mac OS in Safe Mode. So lets get started. But if you wonder why would one like to boot Mac in Safe Mode, then here are the ways Mac behaves while in Safe Mode:
Disables the startup and login items
All the third party fonts are disabled
Support is available from all the fundamental kernel extensions
Helps you troubleshoot your Mac weird behavior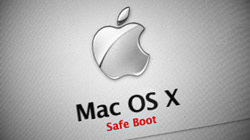 Steps To Start Up Mac OS X In Safe Mode
Once your Mac is shut down, switch in ON so that you can switch on to the Safe Mode. And the moment you hear the Start tune, hold the Shift key.
Make sure that you hold the Shift key right when you hear the tune, not before or earlier.
And release the button when you see a gray Apple icon on your screen and see an indicator showing the progress bar. And you can also see the Safe Boot tag on the display scree. This confirms that the Mac has been started on Safe Mode.
And in order to start the Mac in the normal mode, just restart your Mac and make sure that you do not hold any kind of keys this time. This is how you can start Mac OS X in Safe Mode.