If you like playing with the audio configuration, then an equalizer is a must for you. Mac machine lacks the centralized equalizer that the Windows OS has. Every media player or audio player has its own equalizer but there isn't any system wide feature for Mac.
In this post, I will help you set up a system wide audio equalizer on your Mac machine so that you need not get the audio presets right every time you use any media or audio player.
Check out the below guide for step by step instructions.
How To Set Up System Audio Equalizer For Mac OS
The first thing that I want you do is download and install Soundflower. Once you are done with its installation, it would prompt you to restart the machine. Just do it
Now get your Mac equipped with AU Lab. You need to have your Apple ID handy at this moment, as it is required to register with Apple Developer site, where you will find this program
These are the two things that you need to have loaded on your Mac machine before you get into this whole setup business.
First thing you need to do is launch System Preferences and then click on the Sound option
Now click on Output tab and then click on Soundflower (2ch)
Launch AU Lab and here you need to do some settings
At the Audio Input Device drop down menu, choose Sounflower (2ch) and at the Audio Output Device drop down menu, choose Built-in Output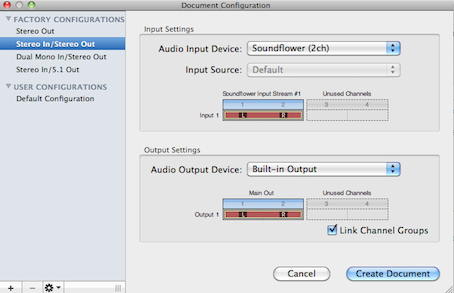 And once the options are chosen, click on Create Document button
This will take you to the next screen where you can change the settings on Output 1 column
One the Output 1 column, choose the appropriate option from the Effects which is, AUGraphicEQ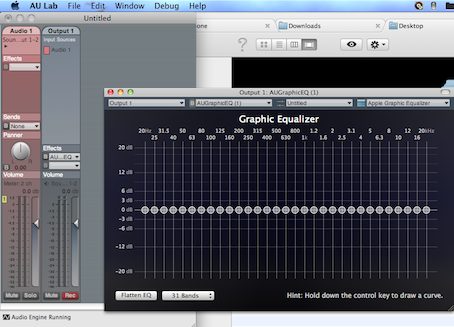 This will launch a detailed palette, where you can change your audio configuration
Once its all set, use Command + S to save your settings which will in turn create a file at desired location
Now its time to use those settings. Launch AU Lab Preferences, click on Document tab, at the Open a specific document option, click on the Choose button and select the file that was created at the above step and that is it
This is how you can make your audio settings work on your Mac regardless the media player you use.