We have come across this wonderful tool namely, Ac1dSn0w by PwnDevTeam which lets you tether jailbreak some of the devices running on iOS 5. This tool will only work with  iPhone 3GS, iPhone 4, iPod Touch 4G, iPad 1.
Yes, it implies that it this tool won't prove to be of any use if you are trying to jailbreak  iPod Touch 3G, iPad 2 and iPhone 4S. As per my understanding and feedback about this tool, I have come to a conclusion that this tool offers you with one of the easiest tool to jailbreak iOS 5.
Currently, Ac1dSn0w is in Beta 1 version, and developers promise that once it releases it final version, if would pack some amazing features like jailbreaking iOS device remotely.
This Beta 1 version of this tool works only with Mac. And the best feature of this tool is that offers you with inbuilt tool to reboot your device in tethered mode. So unlike other tether jailbreak, you need not take care of it being rebooted in tethered mode every time you boot your device. Isn't it amazing?
Steps To Jailbreak iOS 5.0 Using Ac1dSn0w
So first you need to download Ac1dSn0w tool which would compatible with only Mac. Its user interface is so very user friendly that you wont face much of issues while jailbreaking your iOS 5 device.
Now turn off your device and connect it to the Mac. And this wonderful tool will show you the instructions to switch it in DFU mode once your device is detected by Ac1dSn0w.
Once you are done switching it to DFU mode, click on the Jailbreak button.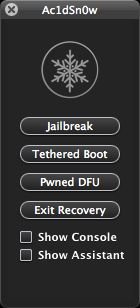 Grab a coffee while Ac1dSn0w takes care of rest of the jailbreaking business. Once the whole process is complete, it would inform you the same and then click on Tethered Boot button as it will boot your iOS 5 device in tethered mode.
That is it! This is how you can jailbreak iOS 5 using Ac1dSn0w which would surely turn out to be one of the most advanced tools to jailbreak iOS devices.