XBMC is an incredible media centre package while lets you organize, manage and view videos, photos, podcasts and listen music. Now, XBox Media Centre is out with its app for iPad, iPhone and Apple TV 2G. So we have come out with the tutorial to install XBMC on iPad or iPhone 4.
Install XBMC On iPad, iPhone 4
Before we start with it, XBMC app for iPhone 4, iPad is available as Cydia app. So, you need to jailbreak your iPhone 4, iPad for that. Here is the complete guide to install XBMC app on iPad, iPhone 4.
STEP 1: XBMC app is a Cydia app. So make sure that you have a jailbroken iPad, iPhone 4.
STEP 2: Now launch Cydia from your jailbroken iPad, iPhone 4.
STEP 3: There, tap on Manage button which would located at the bottom of your screen and there tap on Sources.
STEP 4: Now, tap on Edit button and then on Add button. There it will prompt you to enter a URL source. When it does so, enter 'http://mirrors.xbmc.org/apt/ios/' as the source and then tap on Add Source button.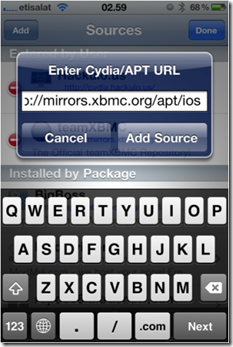 STEP 5: Once the source is added, tap on Return To Cydia button.
STEP 6: Now navigate to teamXBMC repo and there tap on XBMC-iOS which will actually install XBMC on iPhone 4, iPad.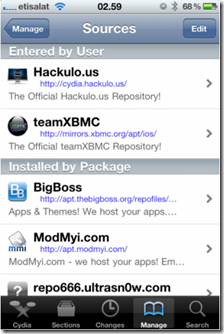 STEP 7: Now exit Cydia and run XBMC from your Springboard / Home menu.
STEP 8: Reboot your iPad, iPhone 4 and that is it. You have successfully installed XBMC app on your iPad, iPhone 4.