If you have been using Android, then I am sure you might have heard of Swype which proves the fact that it is one of the most used app on Android. If you are not aware of Swpye, so here is some information. This is actually a free Android app which kills most of your typing woes on a touch screen.
And I am sure that you have tried this app earlier, and own an iPhone or iPod Touch, you would like to have that app on your iOS device. Although there isn't any official Swype app for iOS device, but here is a way to get it.
I have tried it once and have to say that it is one of the best tools invented to simplify and fix the typing issues that one face on any touchscreen. And it is highly recommended.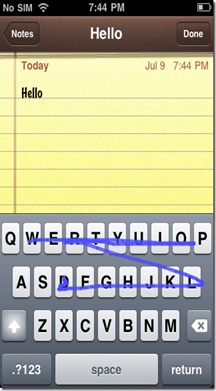 Steps To Install Swype On iPhone / iPod Touch
Before you sit to start installing this wonderful typing tool, Swype on iPhone or iPod or any other iOS device, you need to make sure that it is jailbroken.
Once done, open Cydia and then navigate it as follows, Manage > Sources > Edit > Add.
In the field labelled as source, type the below link:
 http://wynd.x10.mx
Once done entering this as source, you just leave it to Cydia so that it installs all the required packages. When you find that the whole installation is complete, just get back to Cydia and search for Swype using is search bar.
Now, download the Swype and install it once you find it. That is it! You can start using Swype on iPhone / iPad / iPod Touch can make the typing tasks easy for your self.