iPad 2 is a better version of iPad and the features like HDMI mirroring on HD TV does prove it. All you need is an Apple's Digital AV adapter or VGA adapter and you can start with video mirroring. What if we say there is a way to enable video mirroring in iPad and iPhone 4 too.
This is a brand new jailbreak hack from NatureEyeStudios, which lets you to enable video mirroring on jailbroken iPad with iOS 4,3 and iOS 4.3.1.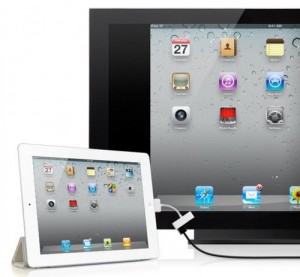 Enable Video Mirroring On iPad And iPhone 4
Firstly, you need to jailbreak iPad / iPhone on iOS 4.3.1
Once its done, navigate to system/library/coreservices/springboard.app/
And copy the file, K48AP.plist to your computer
Now, open that pfile and add the below line to it:
display-mirroring boolean YES
Now, save the file and copy it back to the location from where you have copied it which is system/library/coreservices/springboard.app/ folder
Now restart your iPad / iPhone 4 and get ready for the fun as you have enabled video mirroring.