Apple believes in keeping things simple, and this is the one of the main reasons why it never went to camera initially, and later offered powerful camera without advanced features. If you are an iPhone owner, I know how much you miss panorama shooting mode on it.
If you have iPhone 4, iPhone 4S or iPod Touch 4G running on iOS 5, then you can get panorama mode on it. Yes, this post is about how to enable panorama mode on iPhone 4 and iPhone 4S.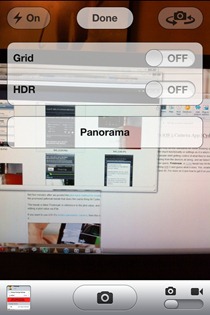 This is actually a Cydia tweak which obviously works on jailbroken iOS 5 device like iPhone 4, iPhone 4S and iPod Touch 4G. We have already share a good amount of info on how to jailbreak iOS 5, and once you jailbreak your iOS device, you can try out this Cydia app to enable panorama mode on iPhone.
There is no doubt about the fact how powerful Apple's hardware is. But I have never understood why Apple does not prefer to unleash it. It is only when you jailbreak your iOS device, you realize how powerful it it. This Cydia app is one of those apps, which make you realize it.
The Cydia app, Firebreak will make it happen. This app unlocks the panorama functionality of iPhone's camera on your iPhone 4 and 4S.
And once you install this app, it is so very easy to activate it. All you need to do is tap on the Settings option, and then click on the Panorama option. You can find Firebreak in BigBoss repository or you can search for it on very popular Cydia search bar. If you are having iPhone 3GS or lower version, I feel very sorry to say that it wont work on your device.