Mac OS X Lion offers number of impressive features which most of the currently available operating systems do not feature. And the fact that most of them are those that we have been looking for since long long time makes Mac Lion more special.
Unlike other OS, you need not have the installation DVDs or files to recover your corrupted mac. Using Recovery Disk Assistant you can easily create Mac OS X Lion Recovery Disk which is a very powerful feature.
How To Create Mac OS X Lion Recovery Disk
Mac Lion offers you with inbuilt program called Recovery Disk Assistant which helps you create Mac OS X Lion recovery disk on any external drive without much of effort.
So plug in a clean external hard drive to your Mac in which you would be copying all the files which would be needed to recover you Mac.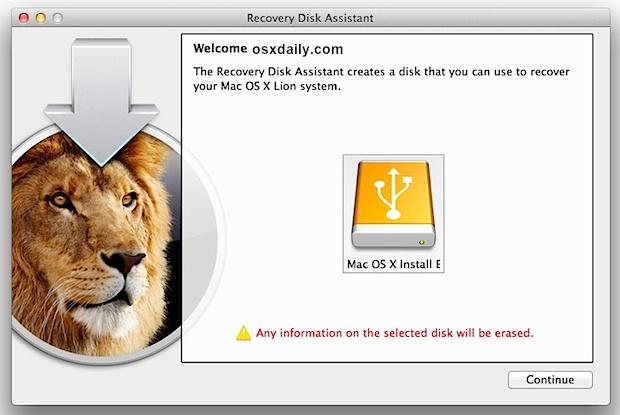 Once done with it, launch this application on your Mac. Now click on the Continue button so that the whole process of copying files starts. And when the copying of all the files is done, click on the Quit button and get done with it.
You can use this recovery disk of yours whenever you feel that your Mac cannot be recovered now. All you need to do is insert the drive, hold the Option key while you are rebooting your Mac and then use this created recovery disk to recover Mac OS X Lion.