Mac OS X Lion is now available in Apple Stores and iTunes for $29. But if you looking for a bootable USB not a bootable disc, then we got the complete tutorial for you which would let you create Mac OS X Lion bootable USB flash drive.
What if you download Mac OS X Lion on your Mac, and you want to install it on your other Mac? Do you really want to download it again? So, once you create bootable USB flash drive, you can easily install it on the Mac you want. Although Apple has to release the Mac OS X Lion Bootable USB Flash Drive in August 2011, but use this guide to get one right now.
Things You Need To Create Mac OS X Lion Bootable USB Flash Drive
Download Mac OS X Lion from App Store
A pen drive or external storage device with a minimum of 4GB space
And some time with basic knowledge on Mac
Guide To Create Mac OS X Lion Bootable USB Flash Drive
Once the download of Mac OS X Lion is complete, locate the .dmg file. It would be named as Install Mac OS X Lion.app
Now since you have found it, right click on it and click on the option, Show Package Contents
Then navigate to the below path and look for the file InstallESD.dmg and copy the same to your desktop
Contents > SharedSupport
Now its time to tweak you Flash drive. So, before we start anything, just format it
Plugin the formatted flash drive to Mac, launch Disk Utility from the Application folders of your Mac
Click on the flash drive that you have plugged in on the left panel and click on the Partition tab
Since you have to make one partition, choose 1 Partition from the Volume Scheme dropdown button and mark it as Mac OS Extended (Journaled)
Click on the Options button and click on the GUID Partition Table and on OK button. Since you are done getting your flash drive ready for the business, click on the Apply button and let Mac do its work now
Now double click on theInstallESD.dmg as it would mount the image
In the Disk Utility, click on your flash drive from the left panel, and then click on the Restore tab
From the left panel, drag the IMac OS X Install ESD and drop it on Source field
Similarly, drag and drop the USB drive on the Destination field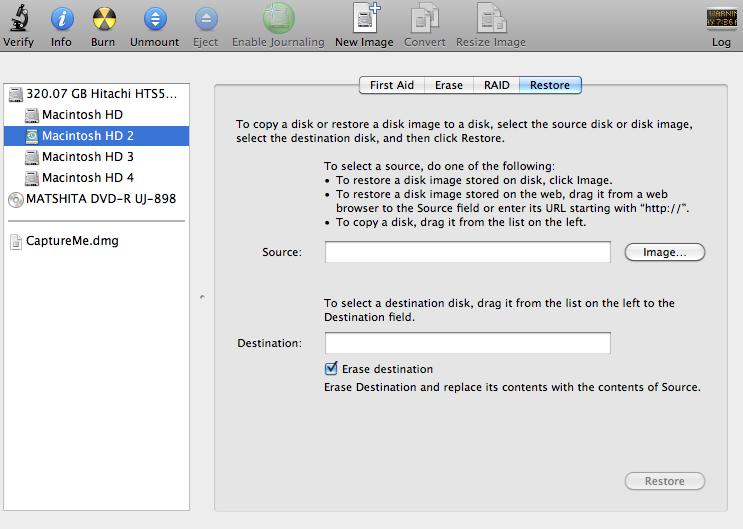 Make sure that you have dragged and dropped right drives on it as you want to mess up things and click on Restore button
That is it! Once the restore is complete, you are done with your task to create Mac OS X Lion bootable USB flash drive. Its time to test it now. Plug it on any Mac, switch on the Mac and hold the alt / option key when you hear the beep sound. There, choose your flash drive and follow the instructions step by step to install Mac OS X or to restore the Mac using the Time Machine Backups.