This is one of those features that every Mac owner who is with corporate world wants to learn about. Except for few handful of corporate firms, every company has its own network.
And when you wish to access those secured corporate networks on your home / personal laptop or computer, you need VPN to set up. But here is a thing about Mac, where you need to download or install any third part VPN client to get your job done.
You can easily create VPN on Mac and start accessing your company's secured network from your home. And since all this does not involve any intervention of any third party application, all this becomes simple and quick.
Regardless you need RSA Token to access your company's network, you can make use of the below method to securely access your office's network from your Mac machine. Below is the how to guide for the same.
How To Connect To Office VPN On Mac
Things that you should be aware of before going ahead with this tutorial:
Your company's VPN server name. It could be IP address or the complete qualified domain name

Credentials for the VPB connection that has been provided by your company's admin
Here are the actual steps to use VPN on Mac:
Launch System Preferences and click open Network option
Click on the + symbol at the bottom left to add VPN network
Choose the Interface as VPN
And for VPN type, you have got two options. One is L2TP which offers greater safety as it requires Shared Secret to get the connection done. If all this is not required, then you can go with PPTP
And at the Service Name field, give it any name you want to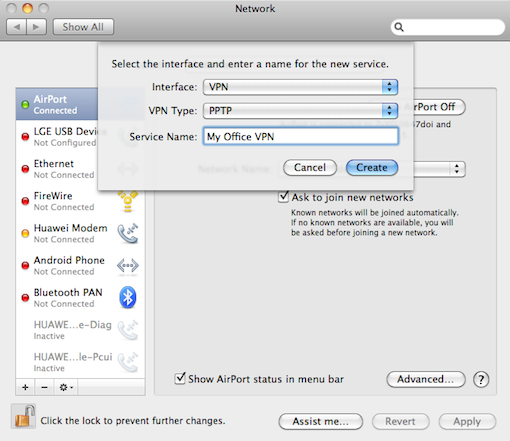 Once all this is done, click on Create button
Click on drop down menu of Configuration option, and then on Add Configuration. Now give it a name and click on Create button
Enter all the other required details, which include, Server Name, Account Name and Encryption

Click on Authentication Settings and choose the type your Office's VPN allows and click on OK
Now click on Apply button and also ensure that the option Show VPN status on menu bar is checked, and that is it
How To Use VPN On Mac
Click on the Language option on the Menu Bar, and click on Connect
Now the timer indicates that the VPN is connected
Launch System Preferences and Network again, choose the VPN connection from the list on the left hand side, and click on Advanced
There, you need to uncheck the option, Send all traffic over VPN connection. This is to ensure that your other browsing activities get proper Internet bandwidth as the VPN is always on the slower side
That is it! This is how you can connect to Office VPN on Mac and use it without much of trouble.