I am going to talk about a common practice, which has nothing to do with the OS you are working on. Whenever you switch on your computer, there is a set of programs that you launch straight away.
And this happens with me every time and every day. Whenever I switch on my Mac, there is a set of programs which I always tend to open. So how about telling your Mac to automatically launch these programs whenever you switch it on.
With this post, we want you to help you configure startup programs on Mac. Yes, you can remove and add programs to the startup list on your Mac, which will automatically start up the program on Mac whenever you switch it on.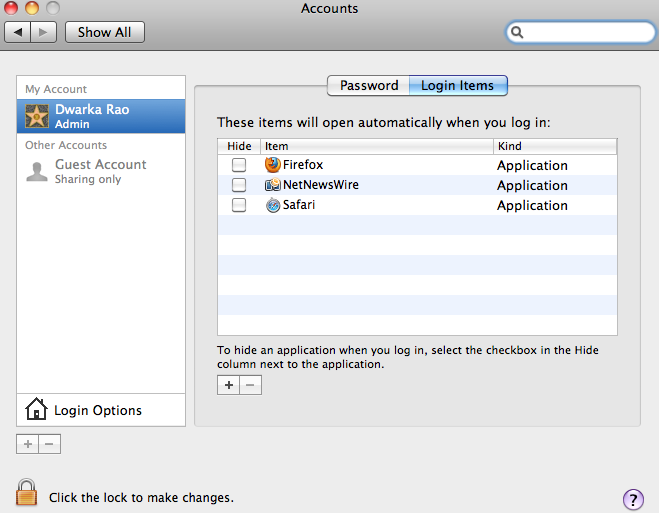 Steps To Configure Startup Programs On Mac
Launch the System Preferences option. You can either do it by clicking on the Apple icon and clicking on the option, or you find the same inside the Applications folder
Look for the Accounts under the System section and click on it
Now click on the Login Items tab
Just at the bottom of that Window, you can see the + and – (Plus and Minus) buttons. In order to add any program to the list, just click on the + button and choose the application that you want to add and in order to remove one, choose any particular app and click on the – button
And once you are done, click on the Lock icon which would prompt you to enter your Mac password in order to ensure that changes are saved
That is it! This is how you can configure startup programs on Mac. If you notice that any of the app does not start up automatically even after configuring it, then check with its Options and enable the automatically startup option. Try it!