OneNote Mobile is the latest mobile app, specially meant for iPhone is by far the best note taking app available. Its easy to use features, friendly interface, synching features make OneNote Mobile THE muse have app for iPhone users. Now, here is an error that most of the users are facing. Yes, we would talk about how to fix Loading List Of Notebooks Failed Error 500 of OneNote on iPhone.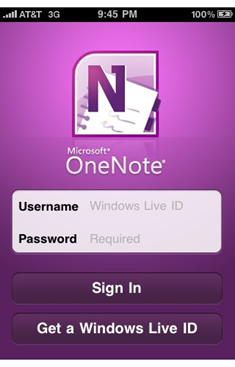 What does this error actually mean and when does this occur? Well, Login Failed Error:400 occurs when the users try to login to using their Windows Live IDs. And the, it pops an error saying,
Login Failed Error:400
This issue has now been resolved but the users now seem to have facing some other error. When ever users try to sync their notes with the cloud by navigating, Settings > Sync Now, they seem to encounter an error saying,
Loading list of notebooks failed. (500)
This error basically occurs when you are using a new Windows Live account. So whenever you encounter this error, make sure that you login on web with the same ID.
Login on the page, http://office.live.com/ using your Windows Live ID and accept the terms and conditions. Now, keep yourself logged on web and try to sync again.
That is it! This is how you could fix Loading List Of Notebooks Failed Error 500 encountered on OneNote Mobile on iPhone.