If you own iPod or iPhone, then here is program which would prove to be of great use, Dupe Away. This program is capable of doing so many things, that take so much of efforts if you wish to work them manually.
So, what exactly can you do with Dupe Away? This includes so many tasks like searching and grouping duplicate tracks, searching duplicate playlists.
The most basic and fundamental job Dupe Away is to find duplicate tracks in 3 steps. And within no time it would list out the duplicate songs on your computer. You can even filter your search further by enabling the size comparison option.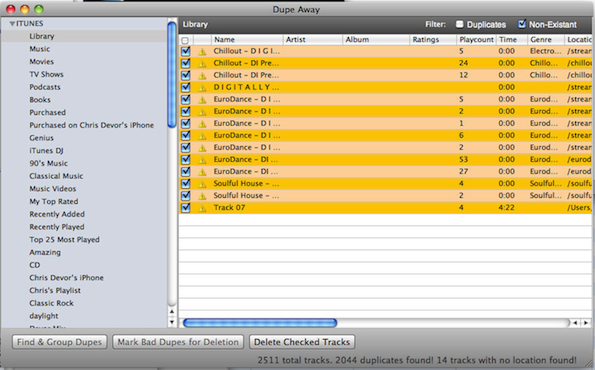 If you have been listening to a song, and on removing it from your computer, you will find find that it still exists on iTunes although you can play that song now. Dupe Away lets you find such orphan songs on your iTunes, and remove them.
You can use Dupe Away on Playlist level too. It helps you finding multiple entries in a playlist and remove them. And also helps you find duplicate playlists.
Dupe Away is smart enough to decide the file that has to be kept among the number of duplicate files that it has found. And it basically works on the number of times you have played songs, size and few other parameters.
I have tried Dupe Away and loved using it as it surely is one of the best ways to remove duplicate songs on iTunes in no time.