iOS 4.3 Beta 1 is available on Internet. If you have installed this beta version of iOS firmware on iPhone 4, iPhone 3GS and iPod Touch 4G, 3G or iPad and looking to downgrade iOS 4.3 Beta to 4.2.1 / 4.1 iOS firmware, then the below tutorial would help you.
Steps To Downgrade iOS 4.3 Beta To 4.2.1 / 4.1 iOS Firmware
STEP 1: Since you need your old firmware back, so download the required iOS firmware files.
Download links: iOS 4.2.1, iOS 4.1, iOS 4.0.2, iOS 4.0.1
STEP 2: If you are a Windows user, navigate to the path C: > Windows > System 32 > Drivers > etc and open the available hosts files in a notepad.
Where as, if you are a Mac user, navigate to the path /etc/ , and open the available host files on TextEdit.
STEP 3: Once you have opened those hosts files, you need to add a string at the end of those file, which is:
74.208.105.171 gs.apple.com
This will basically redirect the requests for certificates for authenticity to Saurik server.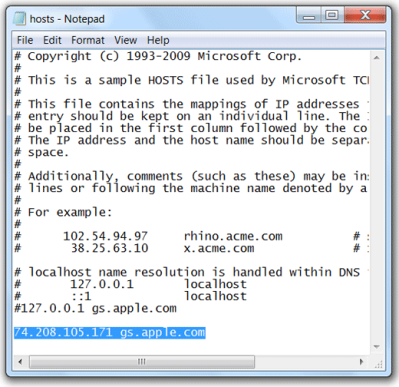 NOTE: If you are working on Windows, make sure you do the above step while you are logged in a user with Administrator Privileges. And if you are on Mac, do the same while you are a root user.
STEP 4: Now you need to boot your iOS device in Device Firmware Update Mode (DFU Mode). To do that, follow the below steps:
Open iTunes and connect your iOS device to your computer

Press and hold the Home and Power buttons at the same time

After about 10 seconds, release the Power button while still holding the Home button until your computer recognizes your iOS device

And once it gets recognized, release the Home button. If you do not do so, the device will go into Recovery mode and you have to repeat the whole thing again
STEP 5: Now in the iTunes sidebar, spot your device, press and hold the Left ALT key on Mac or Left Shift button on Windows and click on Restore button. Make sure that you do this step carefully. Do not click on any other button like Update or Check for Update.
Once you click on the Restore button, release the keyboard key. Now, your iTunes will prompt you to mention the path for the restoration. Mention it, and click on Open.
STEP 6: Now, wait and watch while your iTunes restores / downgrades iOS on your device. If in case you encounter any errors in between like "The iPhone could not be restored. An unknown error occurred (1004)." and "iTunes has detected an iPhone in recovery mode. You must restore this iPhone before it can be used with iTunes.", simply ignore them by clicking on OK button.
STEP 7: Since you are done with the whole process to downgrade iOS 4.3 betra to 4.2.1 / 4.1 iOS firmware, you need to get back your device in Recovery mode. So use, TinyUmbrella or RecBoot tool.
In case you choose to run TinyUmbrella, just select "kick device out of recovery" button

RecBoot users can just click on "Exit Recovery Mode" button
This was the complete step by step guide to downgrade iOS 4.3 beta to iOS 4.2.1 / 4.1 firmware.