If you have been using iPod / iPhone, then you must have surely thought of ways to copy music from your iOS device to computer. I would be sharing two ways to do it here. In one, we would be using iTunes and in the other we won't be using it.
Suppose that you have switched to a new computer or laptop, and the fact that you would lose all the music and videos from your iPod / iPhone once you try to sync it with the new computer. Those are the times when you looks for ways to transfer music from iPod / iPhone to computer.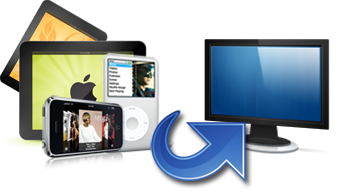 2 Best Ways To Transfer Music From iPod / iPhone To Computer
Method 1 – Using iTunes
I have no doubt about the fact that not many people are aware of this method. Yes, you can still copy your music from iPod / iPhone to a new computer where its library is complete different even though you are using iTunes. Below are the steps:
Plug in your iOS device to your computer
When iTunes recognizes your device, click on Continue button and then on Summary and then put a check across the option labelled as Manually manage music and videos
Now save the changes by clicking on OK and Apply button at the bottom of the screen
Now open My Computer and choose to view the Hidden files by clicking on Tools on the Main Menu and then on Folder Options > View and put a check across the Show hidden files and folders option
Save the changes by clicking on OK button now
Navigate as iPod's Drive > iPod_Control > Music. There you will find number of folders named as F00, F01, F02 and so on
Inside those folders, you will find the music that you were looking for. Yes, they wont be named as they should have been
Just copy those songs and paste them to your local folders
Method 2 – Using iPhone Explorer
If you do not wish to use iTunes by any reason, then iPhone Explorer is the tool that you have to use. All you need to do is connect your iOS device, launch this program, and browse across the contents using that program just like any other external drive.
I have already shared decent information on this free iTunes alternatives for Mac and Windows. And once you are done reading that, you would surely want to give a try with that application.
These are the two best ways to transfer music from iPod / iPhone to computer. You can go with the one which you find comfortable with.