Apple said a big NO to flash by not allowing its devices and any of its apps to support Flash. And this is the reason you cannot watch flash videos on any of the iOS devices. But what if you love using Flash? Are there any ways to play flash videos on iPad, iPhone or iPod Touch?
You would be glad to hear that, yes there are many ways. There are few good apps available on iTunes Store which would let you access flash content on your web browser on iPad, iPhone and iPod Touch, but there are paid. What if you are want ways which are free and cost you nothing.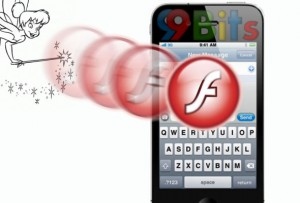 Best Ways To Play Flash Videos On iPad, iPhone, iPod Touch For Free
We would be sharing two easy ways to play flash videos on your iOS devices, and the best part is that both these methods does not require you to jailbreak your iOS device. Here are they,
Method 1 – Play Flash Videos On iPad, iPhone, iPod Touch
SmokeScreen is the easiest and simplest way to play flash videos on iOS device. The developers say that, "It runs entirely in the browser, reads in SWF binaries, unzips them (in native JS), extracts images and embedded audio and turns them in to base64 encoded data:uris, then stitches the vector graphics back together as animated SVG."
And this is the reason that it lets you play flash videos, watch Hulu, and play Farmville straight on your iOS devices without even jailbreaking it.
Method 2 – Play Flash Videos On iPad, iPhone, iPod Touch
This method involves lot of pimping and tweaking. To start with, launch your web browser and open the below URL.
And when the page opens, tap on the '+' button which would actually let you add this URL as your bookmarks. When you are done with saving this bookmark, go back to the web page and tap on the Bookmarks button.
There tap on the Edit Bookmark button and remote all the text that is before the javascript. It means that you need to remove http://iosflashvideo.fw.hu/# from the URL. When its done, tap on the Done button.
Now, simply open the iOSFlashVideo bookmark on the respective webpage and start accessing any of the flash supported website.