Mountain Lion has 200+ new features. And out of those 200 or more new features, its Notification Center is one of the most popular features. So lets talk about different ways to access Notification Center on Mountain Lion.
When I had a Windows machine, I preferred using keyboard only. But with Mac, things have changed little bit. With its incredible trackpad, I tend to get my work done with its gestures features.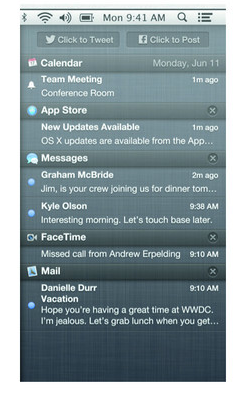 Best Mountain Lion Notification Center Shortcuts To Launch It
From The Menu Bar
At the top right corner, you will see a Notification Center icon. All you need to do is just click on it and that is it and the notification center would slide out. Yes it is neither shortcut nor its good looking, but it is one of the ways to access Notification Center on Mountain Lion.
Keyboard Shortcut
By default, there isn't any shortcut set for launching Notification Center. In order to set it, navigate as System Preferences > Keyboard and click on Keyboard Shortcuts. Now click on the Mission Control on the list presented on left hand side. Then put a check across Show Notification Center and enter the combination of keys to set it as a shortcut to access Notification Center. Hence, this is the best way to do it because you can make Notification Center slide out the way you want.
Hot Corners
Hot Corners is an interesting feature which set shortcuts on Mac. Whenever your mouse pointer touches a corner, it would launch a program as per your settings. So, you can use this feature to pull out a shortcut for Notification Center.
Navigate as System Preferences > Mission Control > and click on Hot Corners in the left right corner. Now you can assign a shortcut for launching Notification Center there. Now whenever your moue pointer touches the assigned corner, it would launch Notification Center.
Gestures
I love Gestures and this is one the biggest reasons why I love using Mac. Make sure you have enabled it on your Mac and to do that, navigate as  System Preferences > Trackpad and ensure that you have put a check across the Notification Center option. Its simple, use your two fingers and swipe from right corner of the trackpad towards the center. That is it!
These are the 4 different ways to launch Notification Center on Mountain Lion.
http://howto.cnet.com/8301-11310_39-57487357-285/four-ways-to-access-mountain-lions-notification-center/