Mac was first introduced as a personal computer but later it became more like a must have gadget for artists. Painters, writers, musicians, scientists, designers and other innovative people have the MacBook now.
In this post, we would be sharing few good free audio editors for Mac. Now you requirement might be as domestic as creating ringtones or as professional as editing music, these programs would give incredible power on your Mac.
These apps are all about audio editing. Some are highly advanced, and some are very basic. So, as per your needs and comfort, you can go with the ones you would want to. Lets get started!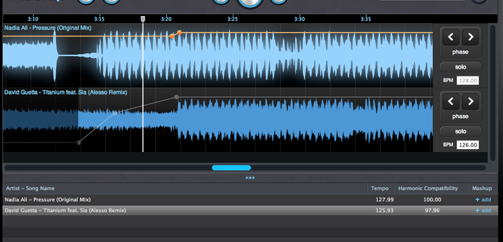 Best Free Audio Editors For Mac
Irrespective to the face if  you have used it or not, but if you have got a slight idea about audio editors then must have surely heard of Audacity. It wont be wrong if I label this open source program as the most popular and powerful audio editing software on the planet. The fact that it is available for all the platforms (Linux / Unix, Mac, Windows), makes it exposed to a greater user base.
For an aspiring DJ, this could be a program to check out for. It offers you with all the advanced sound editing features. Since we are talking about a DJ software, you can expect some really cool features. You can add effects (there are huge number of options available), customizing options and much more.
The name of the program is quite obvious here. This free music editing software lets you record audio, edit them (cut, copy, paste, delete, insert, silence, trim and much more), include audio effects (amplify, normalize, equalizer, envelope, reverb, echo, reverse, sample rate conversion and much more) and burn them on discs.
It is a freeware and is a pretty good option if you are looking for a Mac audio editor. It offers number of basic and advanced features which include cutting, trimming, converting, splitting, fade away, precise splits, tag editing, and much more. A must try out program!
This is one of those free programs which fail to make on to the popular list even though they are competent enough. May be because of lack of publicity. It is a powerful and a pretty solid audio editor for Mac. With real time preview of effects, VST plugin support, cross platform support, fully featured spectrogram, and few other features, Ocenaudio proves to be a MUST TRY program!
Its 100% free! There are number of reasons which make it top class sound editor for Mac. Apart from the basic and advanced audio editing features, this program all lets you burn discs. With high quality output and other customizable options, this surely is a wonderful free program.
Its free Mac version is quite decent. It offers you with almost all the features which have been mentioned above. Apart from its editing functions, audio effects, this program offers you with features like speech synthesis, noise reduction, disc ripper and much more.
You can comment and make this an extended list of audio editors for Mac :P.