A good free RSS reader was one of the first apps that I tried to look out for when I switched to Mac. And I have to tell you that it is not that easy to find good free RSS readers for Mac as it is for Windows.
So, here I am compiling the list of free RSS readers for Mac. What makes a RSS reader great? Well, its the speed and user interface. You do not want to entangle yourself with a sluggish reader with confusing interface. As confusing as a jet plane's cockpit.
All you want is a smooth, simple and fast reader which wont bother you while you are checking out the latest posts of your favorite blogs. I hope you would find this list helpful.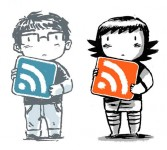 5 Best Free RSS Readers For Mac
News Fire
With a  Cocoa interface, News Fire offers you with a smooth user interface. Just like most of the good RSS readers, it lets you create your folders so that you can categorize your feeds properly. It also lets you import OPML file from other readers helping you to switch the reader easily.
NetNewsWire
This is my favorite free RSS reader for Mac. You can sync it with your Google Reader and NewsGator account. It lets you manage your feeds in a smooth fashion. It lets you create folders, name them and switch your feeds accordingly. You would surely love it because it is as simple as you could think of.
RSSOwl
If you are one of those guys who work on different Operating Systems. Like Mac at your home, Windows at your Office, then you should try this free RSS reader once. This is one of the rare free RSS readers which are compatible on all the OS which include Mac, Windows, and Liunx.
Shrook
This is a powerful RSS reader which is compatible on Mac, Windows and even iOS devices. It offers you with all the basic features offered by any RSS reader. It also recommends you with some interesting articles from your feeds based on your reading pattern which is quite cool.
Vienna
This free RSS reader for Mac is one of a kind as it is easy to use and at the same time offers you with some of the advanced features. It takes care of your feeds in three categories, which are Marked Articles, Unread Articles, and Today's Articles.