Mac is considered as the most powerful personal computer available in the current times and if you are a professional writer and have a Mac machine, then you should consider using the below apps.
The new generation of writers no longer need pen and paper. Yes, the brain needs to function the same way but the way writers used to put them on plate has changed completely. These free Mac apps for writers will let a writer unleash his / her thoughts as these apps are more than a digital substitute to pen and paper.
All the free apps for Mac for writers are more than text editors. Each app has something different and useful to offer. Check out the below list and see which one would be beneficial to you.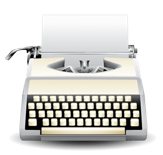 5 Best Free Mac Apps For Writers
Bean
Yes, there isn't a text editor simpler than Text Edit, but sometimes the simpler stuff does not meet all your needs. So, Bean comes to your rescue. It is a basic text editor with all the features that you missed on Text Edit and this makes it a nice app to write on Mac.
Celtx
Yes, it does serve as a text editor. In addition to that, it offers features which let you use it to write screenplays, develop characters, prepare sketches, scripts, storyboards, create reports for the team. Its like a complete software help for a book writer or a movie / show director.
Dark Room
Honestly speaking, I have loved this app. There are number of writers who love doing their job on type writers. If you are not lucky enough to have one, then you can use this app namely, Dark Room which lets you type and nothing else. If you are one of those who get distracted with the advanced features on the text editor, then try out this app which meant for just and just typing.
Jer's Novel Writer
Yes, it a basic text editor with one interesting feature which makes it an Unique one. It has a two pane interface, where one serves to your typing needs and on the other one, you can jot down your notes.
LaTeX
Well, if you are looking for help while writing a scientific paper or a book on mathematics or any other subject, then you would love using this app as it would not restrict you from using scientific symbols, mathematical equations, formula and much more.
There are many more free Mac apps meant for writers