Using the iPhone as a remote control is a truly interesting idea. These tools let you manage your computer and the programs installed on it, with ease and that to when you are away from it.
Then I leave the choice of three applications to turn your iPhone into a remote control the easiest way I've seen and no complications. They also work with iPod touch and iPad. Such applications show the interesting capabilities offered by smartphones today and highlights, in my experience of use, is that despite being free versions offer the necessary functions to remotely manage software and hardware (in this case).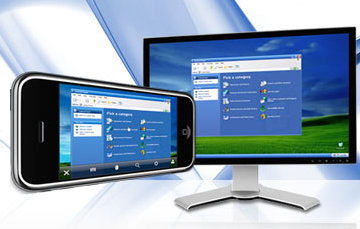 Free Mobile Mouse
It is an application that instantly turns your iPhone into a wireless remote control for your computer (works with PC and Mac) This remote, created by the application, lets you surf the web, manage your applications and manage many of the functions usually use. That is a kind of wireless mouse from your phone. The free version has some limitations but that does not cease to be a great tool.
HippoRemote Lite
It is a simple and interesting application that lets you convert your iPhone into a remote keyboard or trackpad. Both keyboard and trackpad can be used individually or in combination (half the screen for each). Its configuration is intuitive and is compatible with Windows, Linux and Mac
Remote
Lets you control iTunes and Apple TV via your iPhone or iPod touch based on the WiFi network. It is also possible to manage all the features of iTunes and requires no installation on your computer so that it becomes much more dynamic process. With Remote, you can control iTunes remotely from wherever you are, if you are under the same network, in the most simple and effective way.